Delhi is among those cities which seems to be the Coldest places over the years. On December 21, 2021: Minimum temperature plunges to 3.2 degrees with very poor AQI. Delhi on Tuesday recorded the coldest day of the year. With the minimum temperature plunging to 3.2 degrees Celsius and severe cold waves.
Delhi's Minimum and the maximum temperature today will settle at 3.2 and 21 respectively.CPCB showed that capital Tuesday's hourly air quality index (AQI) at 7 AM was 363. 363 AQI lies in the middle of the very poor category. 
Delhi's Fog on Tuesday :
On Monday India Gate was barely visible due to smog in the capital. According to India Meteorological Department's (IMD) forecast, Delhi is likely to see shallow fog on Tuesday too.
Along with the coldest day and smog in the national capital air quality, Index too reached 363 which lies in the very poor category.
Monday and Tuesday Statistics :
On comparing with Monday which had a minimum temperature of 7 degrees Celsius while the maximum was 22, Tuesday's weather is colder than Monday with a minimum temperature of 3.2 degrees Celsius and a maximum at 21 degrees Celsius. 
Similarly, the Air quality index was 332 on Monday and reaches 363 on Tuesday marking it as very poor air quality.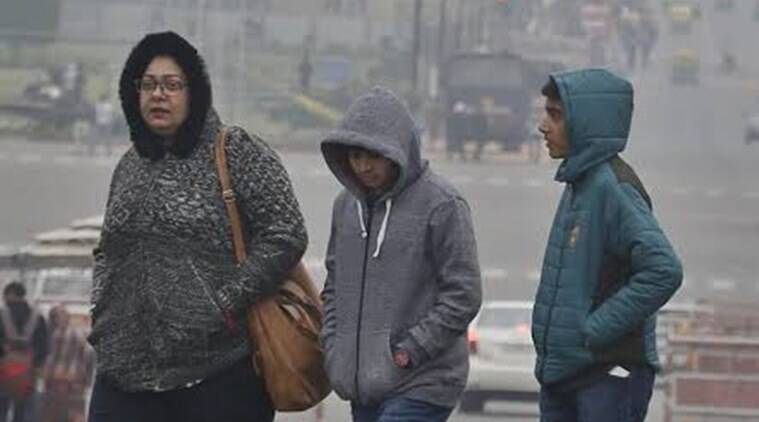 Cold wave :
The city continues to shiver as the cold wave swipes it on Monday and Tuesday too with shallow fog.As the city is facing the coldest day of the year today, Lodhi road continues to be the coldest area at 3.1 degrees Celsius.
IMD Forecast :
According to the India Meteorological Department, the national capital is likely to see some changes in the weather phenomenon. Over seven days from Wednesday due to the arrival of two consecutive western disturbances.
It may end cold waves, lead to cloudiness, change the wind directions. To warm and moist easterly winds, and possibly drizzle by the weekend.
IMD further added that the Minimum temperature could be near 4 degrees Celsius on Tuesday. The city will start seeing moist easterly winds and cloudiness from December 23 which may bring down the daytime temperature.
The IMD senior scientist RK Jenamani said that the second western disturbances may lead to light rain on December 26 and 27 and other days may experience some cold waves. 
" For more updates stay connected with WeirdNotion "